Scrap Metal Recycling for A Greener Mine Site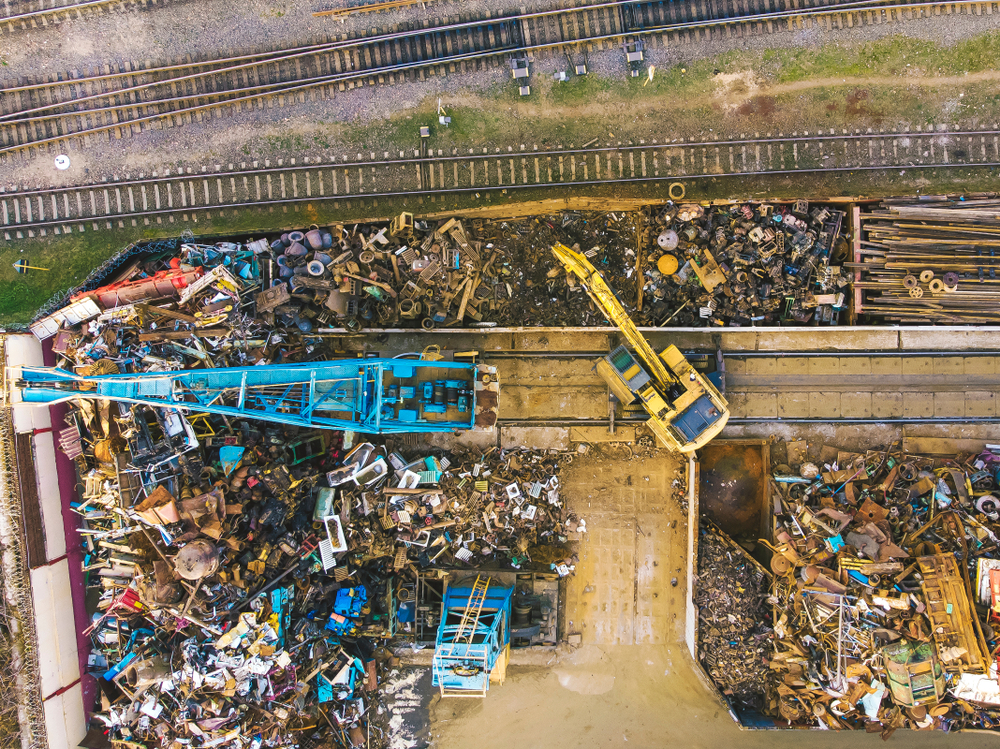 The mining industry has long been a cornerstone of Australia's economy.
It provides the country with valuable resources, fuelling economic growth, and offering employment opportunities to countless Australians. Nonetheless, these benefits have often been overshadowed by the environmental challenges that the industry poses.
These contributions come with their costs. The mining industry's environmental impacts have raised concerns in today's era of increasing eco-consciousness.
The need for a greener approach has become more pressing than ever before.
As the world pushes towards a more sustainable future, mining companies are finding themselves at a crossroads.
'How can they continue to thrive while reducing their carbon footprint?'
Embracing responsible practices focuses on scrap metal recycling, minimizing waste and promoting sustainability. Metal recycling Perth takes a significant step towards reducing resource depletion and landfill waste.
This article explores one specific aspect that holds potential for a significant positive impact – scrap metal recycling on mine sites. From construction sites to mining units, scrap metal Perth plays a crucial role in the industrial landscape of Western Australia.
The Challenges of Scrap Metal
A. Australian Bureau of Statistics
According to the Australian Bureau of Statistics, a staggering 76 million tonnes of waste were generated in Australia in the year 2020.
Surprisingly, approximately 10% of this waste was attributed to metal waste.
This highlights the alarming extent of the scrap metal challenge faced by the mining sector. This metal waste poses a triple threat:
It contributes to landfill waste,
Results in monetary costs, and
Inflicts environmental harm.
The future of the mining industry lies in scrap metal recycling, a practice that conserves resources and reduces environmental impact.
B. Environmental and Economic Implications
Unaddressed scrap metal presents a dilemma with undesirable outcomes.
If not properly managed, scrap metal can end up in two damaging places –
Becoming an environmental pollutant, or
Left on-site or contributing to landfill waste.
Neither of these options aligns with the industry's commitment to environmental responsibility. Moreover, the availability of landfill space is decreasing rapidly, making this route unsustainable. Through our comprehensive metal recycling services Perth can contribute to a more sustainable society.
C. Long-term Impact on Landfills and Environment
Scrap metal has the undesirable quality of biodegrading at a slower pace compared to other types of waste.
This slow decomposition process means that it occupies valuable landfill space for extended periods, intensifying the already critical landfill shortage.
Beyond this, the degradation of scrap metal within landfills can contaminate the surrounding soil, leading to pollution and a range of environmental problems.
This risk becomes particularly pronounced in rural areas, where both community and organizational consequences are heightened. Through efficient scrap metal recycling, we contribute to a cleaner environment and a more responsible mining sector.
Negative Outcomes of Mishandling Scrap Metal
As the mining business continues to grow, the efficient management of scrap metal Perth remains a priority for mining industries.
Failing to recycle scrap metal leaves two less-than-ideal possibilities – environmental pollution by leaving it on-site or adding to the burden of landfills.
These alternatives not only counteract the mining industry's efforts towards sustainability but also intensify the waste management crisis.
1. Increasing Landfill Space Burden
The prolonged presence of scrap metal in landfills is a looming concern. As it resists degradation, it occupies precious landfill space that could have been allocated to more rapidly decomposing waste.
The result is a hampered waste disposal process that compromises the industry's drive for responsible waste management.
2. Soil Contamination & Rural Impact
The impact of scrap metal on soil health cannot be ignored. As it breaks down over time, scrap metal leaches harmful substances into the soil, leading to soil pollution.
This contamination can have far-reaching ecological and agricultural repercussions, potentially affecting water quality and posing risks to both human health and wildlife.
The threat is magnified in rural areas, where communities and ecosystems are intricately intertwined.
The Power of Recycling
Recycling serves as a powerful strategy to combat these challenges. A cornerstone of sustainability is a dedication to scrap metal recycling across various industries.
It not only addresses the issues associated with scrap metal waste but also brings forth a multitude of advantages.
Introducing Recycling as a Solution
The sustainable management of scrap metal Perth waste offers a practical solution to the challenges posed by its mishandling.
Recycling, when effectively executed with the help of expert scrap metal buyers Perth, can yield a range of benefits that encompass resource conservation, energy efficiency, and financial gains.
i. Resource Conservation and Sustainable Use
Scrap metal recycling not only reduces landfill waste but also creates a cycle of resource conservation and reuse.
Metals, the raw materials of industrial processes, are finite resources. Recycling scrap metal Perth waste from mine sites plays a pivotal role in conserving these resources for future generations.
By doing so, we ensure that the raw materials we rely on will continue to be accessible, reducing the strain on natural resources and promoting sustainable practices. Embrace scrap metal Kewdale for efficient waste management and a positive impact on the local community.
ii. Energy Saving & Reduce Carbon Footprint
Recycling scrap metal stands as a beacon of energy efficiency. Manufacturing metal from recycled materials consumes significantly less energy.
Approximately 75% less for steel and a staggering 95% less for aluminium when compared to using raw materials.
This reduction in energy consumption translates into decreased carbon pollution and a significantly smaller environmental footprint. Embracing metal recycling Perth is a way to minimize the carbon footprint.
iii. Financial Benefits of Recycling
Beyond its environmental benefits, recycling scrap metal waste reaps financial rewards. The value of scrap metal varies based on material type, weights, and trustworthiness of local scrap metal buyers Perth.
Copper, often a prized material due to its qualities, fetches a high price, as does brass with its durability. While steel carries a lower monetary value, it's recycling still brings the best scrap metal prices Perth.
Aluminium, even though it provides the lowest financial return, boasts a recycling rate of over 80%, making it one of the most crucial recyclable materials on Earth.
Explore the market trends and benefit from favourable scrap metal prices Perth, contributing to your sustainability goals.
9-Step Recycling Framework For Green Mining
Recycling plays a pivotal role in reducing environmental impact and promoting sustainability, especially in resource-intensive industries like mining.
Embracing the services of reliable scrap metal dealers in Perth is a step towards reducing your environmental impact.
This practical steps layout outlines a comprehensive approach to achieving recycling as a solution for creating greener mine sites.
Step 1: Conduct a Waste Audit
Perform a detailed waste audit with guidance from scrap metal buyers Perth to assess the types and quantities of waste generated by the mining operations.
Identify potential recyclable materials, including metals, plastics, electronics, and other resources that can be recovered and reused. A skilled team of scrap metal recyclers Perth will develop a custom plan to ensure that your contributions to recycling are impactful and efficient.
Step 2: Develop Recycling Infrastructure
The partnership between you and a dedicated scrap metal buyers Perth contributes to a customised recycling plan. Landsdale scrap metal does not have to be waste – it can be a valuable asset when recycled intelligently.
Design and implement a recycling infrastructure tailored to the specific needs of the mine site. This includes setting up recycling collection points, establishing sorting facilities, and designing effective transportation systems to move recyclables to processing centres.
Step 3: Educate and Train Staff
Provide comprehensive training to all mine site staff regarding Perth scrap metal recycling protocols. Ensure that employees are aware of proper waste separation, recycling guidelines, and the importance of their role in the recycling process.
Step 4: Collaborate with Recycling Partners
Entrust your scrap metal management to dedicated professionals – the leading scrap metal recyclers Perth. Establish partnerships with local recycling facilities, companies, and organizations.
Work with them to develop efficient processes for collecting, processing, and reintegrating recyclable materials back into the supply chain. Stay informed and make informed decisions with up-to-date information on scrap metal prices Perth.
Step 5: Implement Source Separation
Encourage source separation of recyclables right at the point of generation. Strategically place clearly labelled bins for different types of recyclables around the mine site. These bins facilitate easy and correct disposal.
From construction sites to manufacturing units, apply separate collection bins to ensure proper recycling of Landsdale scrap metal. A trusted scrap metal recyclers Perth will streamline the process, making responsible waste management effortless.
Step 6: Introduce Incentive Programs
Perth scrap metal accumulation can be addressed through reward-based recycling practices. Incentivize recycling among employees by introducing reward systems for meeting recycling targets.
Consider implementing initiatives such as recognition, bonuses, or other incentives to promote active participation.
Step 7: Monitor and Measure Progress
Regularly monitor and assess the progress of the Perth scrap metal recycling program. Track metrics such as the
The volume of recyclables collected,
Diversion rates, and
Cost savings.
Use this data to identify areas for improvement and create a custom recycling plan with the best scrap metal prices Perth by choosing reliable services.
Step 8: Optimize Recycling Processes
Continuously refine the recycling processes to enhance efficiency. Explore innovative technologies and techniques to improve waste separation, sorting, and processing, leading to higher-quality recycled materials. Join forces with experienced scrap metal recyclers Perth to navigate the complexities of recycling with expertise.
Step 9: Raise Awareness
Engage with the local community, stakeholders, and the public to raise awareness about the mine site's recycling efforts. Highlight the positive environmental impact and encourage others to adopt similar Perth scrap metal recycling practices.
5x Advantages of Metal Recycling for A Greener Mine Site
Incorporating these merits into your company's approach to scrap metal recycling Welshpool not only contributes to environmental preservation but also yields enhanced financial outcomes and amplified stakeholder value.
Find metal recycling near me and be part of the movement to minimize environmental impact while reaping economic benefits.
1. Cost Saving
Green manufacturing reaps substantial cost advantages by curtailing the utilization of resources and raw materials. Fair and competitive scrap metal prices Perth ensures you receive value for your contributions to recycling. Measures such as pollution reduction, energy efficiency, and cost-effective methods yield:
Reduced government taxes
Diminished energy and fuel expenses
Lower outlays for acquiring fresh materials
2. Progress in Innovation
Embracing green manufacturing stimulates innovation and productivity through the integration of novel technologies that mitigate environmental repercussions. The collaboration between businesses and scrap metal dealers Perth fosters responsible waste management.
Businesses harness renewable energy sources and pioneer advanced processes to operate sustainably while upholding efficiency. With advanced technology, your industry can transform Landsdale scrap metal into valuable resources for various businesses.
3. Tax Advantages
Governments incentivize green manufacturing to promote eco-friendly practices. These incentives encompass:
Tax deductions for commercial energy efficiency
Tax credits for carbon reduction
Credits for advanced manufacturing production
Tax credits for commercial electric vehicles and biodiesel
4. Community Engagement and Reputation
Embracing scrap metal recycling Welshpool fosters positive engagement with local communities and stakeholders. Adopting environmentally responsible practices and useful partnerships with local scrap metal dealers Perth enhances a mine site's reputation and community relations.
Being an active participant in sustainability initiatives not only benefits the environment but also elevates a mine site's social standing. Explore the advantages of metal recycling near me, transforming waste into valuable resources within your local community.
5. Increased Profits and Investor Worth
Research indicates that integrating sustainability practices can amplify profits by 51% to 81% within 3 to 5 years.
Green manufacturing expands a company's consumer base by appealing to environmentally conscious patrons. The brand emerges as a frontrunner in environmental accountability, driving higher sales.
Perth scrap metal is not just waste – it is a resource waiting to be recycled for a brighter future. Unlock the potential of sustainable practices with scrap metal Kewdale, contributing to both the environment and your bottom line.
Requirements for Sustainable Disposal of Scrap Metal
Looking for convenient solutions?
Discover reputable and responsible metal recycling near me, bringing responsible waste management to your doorstep.
1. Transitioning to Sustainable Disposal
Transitioning towards sustainable disposal practices for scrap metal is a logical next step. Industry-leading scrap metal recyclers Perth exemplifies this shift.
Scrap metal buyers Perth must specialize in scrap metal recycling and are at the forefront of promoting environmentally responsible practices in the mining sector.
West Coast Metal emerges as a beacon of expertise in the scrap metal recycling arena. Their expertise in convenient mine site recycling across Western Australia highlights their commitment to addressing industry waste management challenges.
Make a difference with the guidance of seasoned scrap metal recyclers Perth, transforming waste into sustainable resources.
2. Adopt Complete Recycling Solutions
Scrap metal recyclers Perth approach must include complete recycling solutions that encompass various aspects of mine site management. Metal recycling near me services, making sustainable practices accessible and hassle-free.
From general site clean-ups to the deconstruction of buildings, facilities, and site equipment, skilled scrap metal dealers Perth ensure a comprehensive approach that minimizes waste and maximizes the recycling potential of scrap metal.
3. Decrease Negative Impact at Best Pricing
Through their services, scrap metal recyclers Perth must contribute to the reduction of environmental impacts on mine sites.
The economical pricing structure ensures that recycling scrap metal isn't just environmentally responsible; it also makes financial sense for mine site organizations. Transparent and economical scrap metal prices Perth ensure your recycling efforts are well-rewarded.
As we collectively navigate towards a more sustainable tomorrow, scrap metal recycling emerges as a beacon of hope. Reputable Scrap metal dealers Perth demonstrates that even within a traditionally resource-intensive sector, a greener future is attainable.
Adopt Greener Mining Through Recycling
The challenges posed by scrap metal waste on mine sites are undeniable. But so are the opportunities for positive change by partnering with scrap metal dealers Perth.
As the mining industry continues to play a pivotal role in Australia's economy, the imperative to reduce its environmental footprint becomes even more pressing.
Scrap metal recycling presents an avenue through which the industry can simultaneously advance its economic interests and environmental stewardship. The onus is on mine site organizations to take proactive steps towards sustainable scrap metal disposal.
The path to a greener mine site is illuminated by the principles of scrap metal recycling. From households to industries, metal recycling Perth is becoming a norm for responsible waste management.
By conserving valuable resources, promoting energy efficiency, and harnessing financial incentives, the mining industry can drive positive change while securing its future.
West Coast Metal Eco-Friendly Mining Solutions
West Coast Metal stands as an ally for greener mining practices across Western Australia.
As dedicated scrap metal dealers Perth, we take pride in our role in the city's recycling ecosystem.
Looking for the best scrap metal prices Perth?
Contact us for
AUDIT of mining site waste
FREE Quotes
CUSTOM Recycling Bins
We offer top cash, ensuring you receive fair payment for your scrap metals.
Call us NOW at 0477 331 630 ── 08 9248 2207