Recycle Plumbers Scrap Metals and Get Cash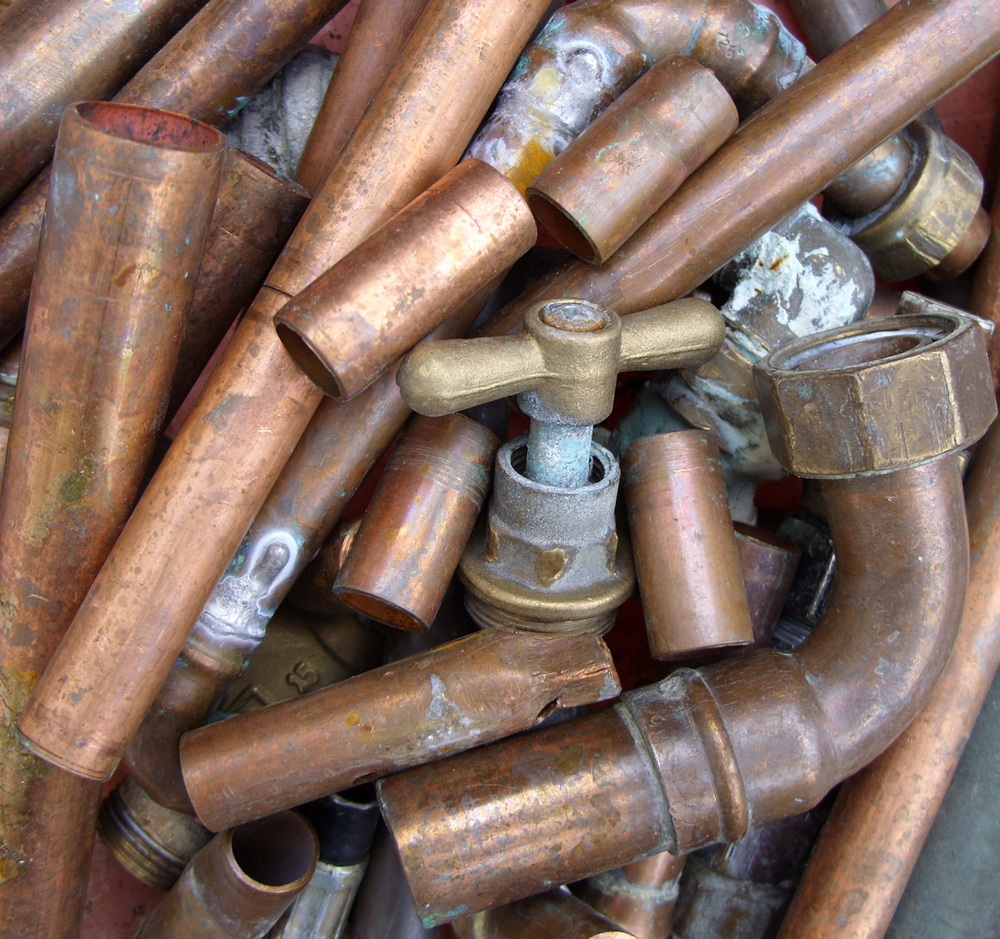 Wondering what Plumber Scrap Metals are, let's find the answer. Plumber scrap metals refers to metal materials or items that are commonly collected or generated during plumbing-related activities. Plumbing scraper often work with various types of metal components in their trade, and over time, they may accumulate plumbing scrap metal as a result of their work or when replacing scrap plumbing fixtures.
The worth of your scrap depends on purity, quality and weight!
A Guide to Plumbers Scrap Metals
Metals used in plumbing, such as copper, brass, stainless steel, and aluminium, are valuable materials that can be recycled and used again rather than being disposed of in landfills. Recycling used metals not only aids in resource preservation but also lessens the environmental impact of metal mining and production. In this article, we'll walk you through the plumbing metals recycling process
Recognizing Plumbing Metals:
Before you start scrapping, it's crucial to understand the different plumbing metals that you can come across. The most prevalent instances include:
Copper: Copper pipes are ideal for plumbing systems due to their high conductivity and reddish brown tint.
Brass: Brass fittings and valves, which have a golden look, are frequently used in plumbing fixtures.
Sinks and faucets: Two examples of the numerous plumbing fixtures made of the corrosion-resistant material stainless steel.
Aluminium: Aluminium is widely used to construct gutters and various pipe fittings due to its low weight.
Collecting Plumbing Metals:
To gather the scrap metals, disassemble any outdated or inactive plumbing fixtures, remove any pipes, and gather any discarded metal fragments. Wear the proper protective clothing, such as gloves and goggles, when handling the metals to prevent mishaps.
It is essential to sift and separate the plumbing metals once you get them. Recycling will become substantially more effective beyond this point. Keep the metals copper, brass, stainless steel, and aluminium apart by using containers or bins.
Remove any dirt, trash, or attachments like plastic or rubber before bringing the metals to a recycling facility. Clean metals are more easily accepted by recycling plants and command a higher price.
Finding West Coast Metal:
Utilise our website and services to find us as your neighbourhood cash for scrap service provider. We pay you much for plumbing metals and accept them. We make it easier by providing affordable pricing for scrap metals; some of them may be experts in dealing with materials specialised to the plumbing industry. Check out our offerings, request a free estimate, and let us assist you in sorting your trash or scrap metal.
Some common examples of plumber scrap metals include: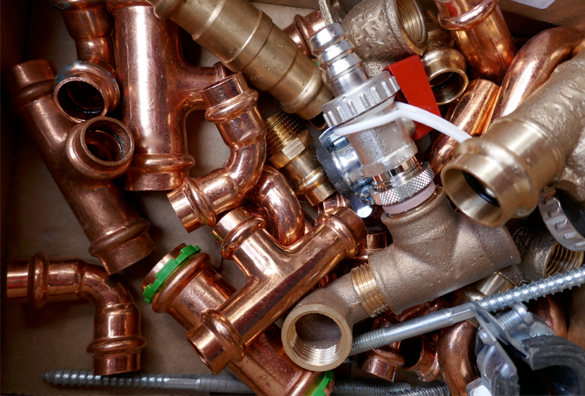 Because of its superior heat conductivity and resistance to corrosion, copper is a widely used material in plumbing. During plumbing upgrades or repairs, old or unused copper pipes can be removed and turned into scrap metal.
A common metal used in plumbing fixtures and fittings because of its tensile strength and corrosion resistance is brass. Brass fittings that have been abandoned or are no longer in use are plumber scrap metal.
Although not as commonly used in modern plumbing, iron pipes were widely used in the past. When these pipes are replaced with newer materials, the old iron pipes can be collected as scrap metal.
Stainless Steel Components:
Stainless steel is frequently used in pipes and plumbing fixtures, especially in commercial settings. Scrap metal includes any stainless steel parts that have been replaced or left unused.
Aluminium gutters that are removed during repairs or replacements can be regarded as scrap metal. Plumbers may also work on gutter systems.
Plumbing joints were frequently sealed with lead flashings to stop leaks. However, lead is now less widely used as a result of environmental concerns. Old lead flashings can be recycled into other materials.
It's important to remember that proper scrap metal disposal and recycling are essential for minimising environmental impact. Plumber scrap metal is commonly accepted by recycling facilities, which helps preserve valuable resources and lessens the need to mine new raw materials. Additionally, some scrap metals, such as copper, brass, and aluminium, have high resale values, making recycling them profitable.
Benefits of Scraping Plumbing Metals:
There are many benefits to scrapping plumbing metals. These benefits include:
Environmental Conservation:
Recycling plumbing metals significantly reduces the need for mining and extracting new raw materials. By which we can make our environment healthy and sustainable. This conservation of resources helps preserve natural habitats, reduces energy consumption, and minimizes the emission of greenhouse gases associated with mining and metal production. The mining and refining of metals can be a polluting process.
Recycling scrap metals always requires less energy rather doing the complete hectic process again from raw materials. For instance, recycling copper uses only about 10-15% of the energy needed to mine and refine new copper.
Placing plumbing metals in landfills adds to the buildup of waste. Recycling these metals aids in keeping them out of landfills and fosters a cleaner, greener environment.
What can scrap metal be used for?
Scrap metal can be used for a variety of purposes, including:
Scrap metal is primarily used for recycling purposes. It can be reused and recycled to make new goods. This lessens pollution and preserves natural resources.
Scrap metal can be used to manufacture new products, such as cars, appliances, and construction materials.
Scrap metal can be used to create art, such as sculptures, decorations, statues, jewelry, and furniture.
In the construction industry, scrap metal can be used to construct fences or to reinforce concrete. Various uses can be made of scrap metal, which is a valuable resource. You can contribute to the preservation of natural resources, the reduction of pollution, and the development of new products by recycling, manufacturing, or using scrap metal in art or construction.
Conclusion:
West Coast Metals know the value and importance of metal recycling for the plumbing industry as it is a cheap and efficient way to help the environment to be more organized and sustainable. By appreciating the value of recycling, we can lessen the need for fresh raw materials, save energy, and reduce our environmental impact.
Therefore, the next time you're dealing with outdated plumbing equipment or materials, keep in mind to recycle the metals and do your part to preserve the environment. We know one could look for Plumbers scrap Perth or plumbers brass scrap prices. It is difficult to trust for better results and offers. We strongly suggest to try the best services with proper research for plumber scrap perth or anywhere in Australia.